Santa Fe is one of those places I've regularly visited throughout my life and there are many reasons to be attracted to the town. Rich art, delicious Northern New Mexican food, endless nature and crisp air are just to name a few of the draws to visiting Santa Fe.
I was excited when the Editor at Rio Nuevo Publishers recently messaged me to see if he could purchase a photo I took the last time I was there, featured below. The map includes a series of things to do while in Santa Fe, which I'll surely be checking out on my next trip there this spring.
I just booked a ticket to Albuquerque for this March (only $103 + $25/day car rental!) and I'm excited to repeat some old favorites, yet try some new things as well. There are so many awesome Airbnbs and HomeAway houses to book in Santa Fe too.
If you love adobe then you're in store as the city has strict guidelines regarding every building being made with adobe (some neighborhoods and councils even have regulations on the exact color of adobe that can be used.)
So without further ado, if you're looking to take a trip to Santa Fe, here are some things you absolutely cannot miss while you're there...
1. The Santa Fe Railyard Arts District
A gathering place for the citizens and visitors alike, the Santa Fe Railyard Arts District is walking distance from all the top attractions, and around just 15 minutes from the ski slopes and hiking trails.
If you're a flower freak like me, plan a visit in late March to enjoy beautiful spring blooms, like the bright and vivid Spanish broom and beautiful cherry blossoms.
I was amazed at how many cherry blossom trees there were in bloom! We stayed within walking distance of the Railyard Arts District and they were everywhere. It was delightful to be surrounded by such beautiful scenery...a nice change of pace from city life.
There's also a farmers' market that occurs every weekend that's worth checking out. In addition, be sure to check out the numerous art galleries in the district.
Where to eat in the Railyard Arts District: If you're in the mood for some authentic New Mexican food, check out Tomasita's right by the train station. You can then decide for yourself in the "Red or Green?" Christmas color debate.
2. Visit Canyon Road
A trip to Santa Fe without visiting Canyon Road would be like visiting Paris without seeing the Eiffel Tower. Canyon Road includes an abundance of galleries, boutiques, and eateries, unlike anything you've ever seen.
Art lovers unite as Canyon Road is a great way to spend an afternoon browsing through endless amounts of art-filled shops. Just don't expect to make a big purchase, unless you're rolling in the deep in cash. Some pieces of art rise all the way up to six-digit figures.
Must-Do: Definitely pay a visit to The Teahouse which is a walking ways down Canyon Road. Save your quench for a matcha latte, lavender lemonade, blood orange shandy, spicy chocolate chai, or one of their many artisanal teas. For food, they've got a scrumptious selection of items like paninis, eggs Benedict and main entrées. Even living in hipster Austin, I've never seen a tea house with as elaborate of a tea menu as The Teahouse!
3. Hike Kasha-Katuwe Tent Rocks National Monument
Just a 40-minute drive southwest of Santa Fe lies Kasha-Katuwe Tent Rocks National Monument, a hiking trail and also a religious site to the Cochiti Pueblo people. The hike is around 3-miles round-trip, taking you through a narrow slot canyon up into an overlook containing striated rock formations. It's one of the best hikes in the area for sure.
Pro-tip: Arrive early. Because you go through a canyon, pathways will get a little crowded. I'd definitely recommend doing a morning hike here. By noon it'll be crowded and you'll be slowed down by little kids trying to get over the rather large rocks and steps.
4. Try Local Beer At Draft Station
After a hike you'll probably be starving — Draft Station (located in the Santa Fe Plaza) has got you covered with its house specialty pizzas and supreme selection of craft New Mexico beer. I can't think of anything better after a hike than pizza and beer!
There's also a pizza place (Rooftop Pizza) across the corridor and you can order directly in the bar and they'll deliver the pizza to you. If you feel like branching out from regular 'ole pizza, try the blue corn crust and get green chiles on your pizza!
Tip: If you can, get a spot on the rooftop patio to get a good view of the downtown plaza while you enjoy a brewskie and pizza pie.
5. Visit The Georgia O'Keeffe Museum
Georgie O'Keeffe spent much of her later life residing in New Mexico, including Taos, Santa Fe and most notably, Abiquiú. The museum dedicated to O'Keeffe's work contains many of her paintings and pays homage to her life.
Little did I know she was one of the most photographed women of the 20th century (her husband was photographer Alfred Stieglitz).
If you're in the mood for some culture and art, definitely pay a visit to the museum, open daily 10 a.m. to 5 p.m. (Friday they're open until 7 p.m.) at a cost of $13 for general admission.
6. Santa Fe Hiking
For the outdoor lover, you'll surely want to hike one of Santa Fe's many trails. There are a number of trails to choose from close to the city. You really can't go wrong with any hike you choose.
Last time I visited Santa Fe, we drove up to Santa Fe National Forest for a quick hike. What's lovely is that even in the spring time there will still be snow at higher elevations.
Tip: If you go hiking early spring, definitely dress in layers. You might be cold at first, but after your body warms up, and under the southwest sun, you might get hot.
Oh, and don't forget to hydrate! Santa Fe is quite a dry city and if you're not acclimated, you'll need to drink more water than usual.
7. Explore Bandelier National Monument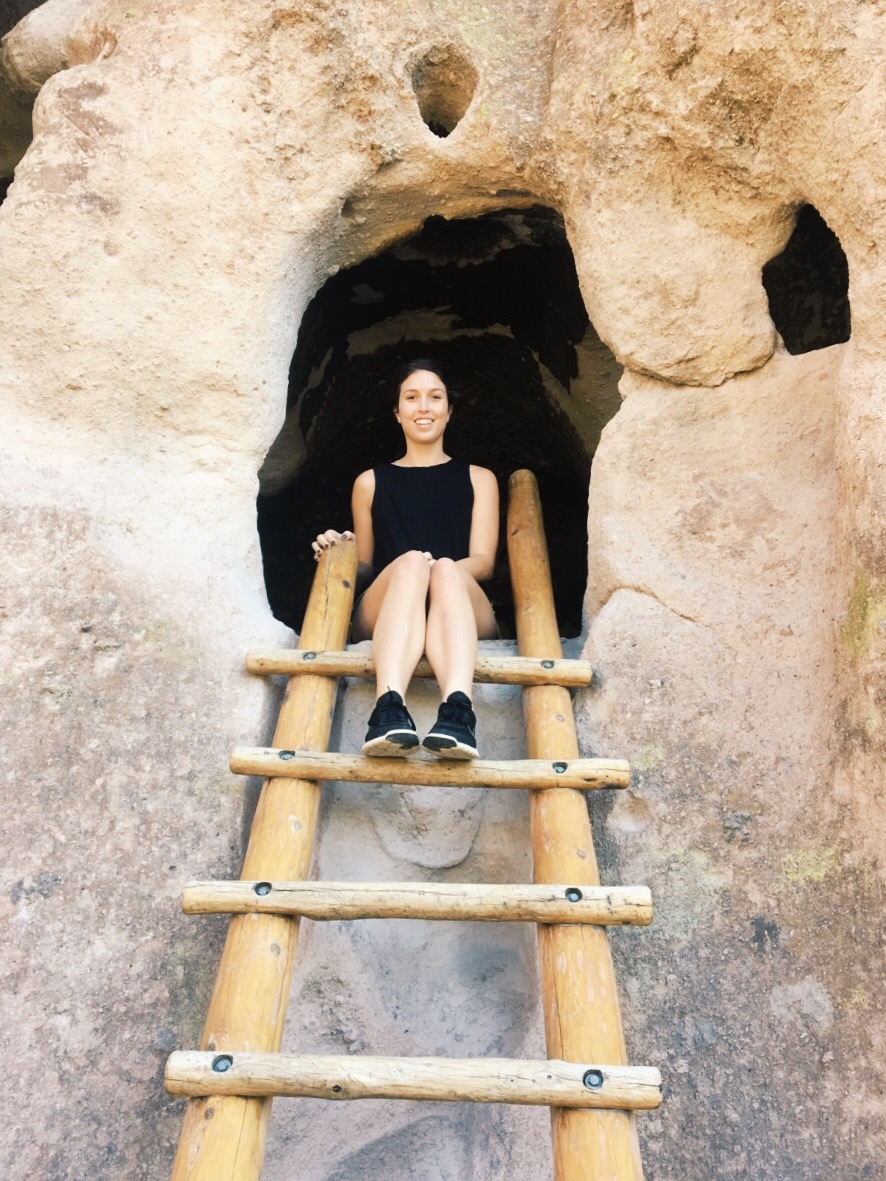 Just an hour drive outside of Santa Fe, Bandelier National Monument is located in Los Alamos. From May to October, the park is only accessible by shuttle, although you can drive directly there if you get there before 9 a.m.
The monument is quite a delight to visit. A light hike will take you around the Ancestral Pueblo archeological sites dated to more than 10,000 years old. The main loop is around 1.2 miles where you'll trek through the Frijoles Canyon, as well as climb ladders to explore the rooms in which people resided thousands of years ago. The finale is a 140ft ascent up a ladder to the Alcove House where people lived up on a cliff.
There is also an abundance of wildlife to be spotted here. I actually came face-to-face with a baby bull snake upon climbing the ascent up to the Alcove House!
8. Get Transported To Another World At Meow Wolf
Meow Wolf is an activity you definitely cannot miss. The website describes it as a haunted house/jungle gym. What used to be a bowling alley, the venue was repurposed into an interactive art experience with the help of George R. R. Martin.
You basically enter a replicated home of a family and there are clues you have to follow on their disappearance and the supposed death of their son. Clues throughout the house lead to the realization that some sort of abduction occurred involving other-worldly beings.
Throughout the house, there are all of these secret corridors that take you to this "4th dimension." For instance, the refrigerator door takes you down a path to this crazy neon outerspace or you can go through the fireplace to access the alien realm.
Meow Wolf was by far the most insane experience I've ever had. Word on the street is that they might be expanding to Austin — I sort of hope it does but know it will be hella packed once word gets out how awesome it is.
9. Shop At The Santa Fe Plaza
If looking to take some authentic souvenirs to take home, the Santa Fe Plaza in downtown Santa Fe has got you covered with its endless sea of turquoise and everything Navajo.
I specifically like to purchase earrings from the street vendors, but there are numerous brick and mortar shops to check out too.
On the weekend, there will likely be a craft fair in the plaza where you can purchase art and homemade goods. Last time I was there I purchased a ceramic coffee cup that I still use today.
Tip: A lot of places will let you barter for a lower price on jewelry. Try going into the indoor shopping malls rather than the window facing ones where the deals will likely be cheaper.
Where to grab a drink: Aside from the already mentioned Draft Station located within the Santa Fe Plaza, I also recommend checking out The Shed for a margarita. In addition, if you're a wine lover like myself, be sure to stop by Gruet Winery tasting room to try some of their award-winning wines before you shop. (All of these places are walking distance from one another.)
What are your favorite things to do in Santa Fe?
Of course, there's skiing, the Burning of Zozobra, and much more. Don't forget to stop by Jambo Cafe and Tecolote Cafe, two of my other favorite restaurants in addition to the places I've already mentioned.
Did I leave anything out? Leave a comment below with what you enjoy the most about Santa Fe.
Check out my New Mexico photo album here.